Eurodad report shows how IMF lending often makes crisis countries' situations worse
by Eurodad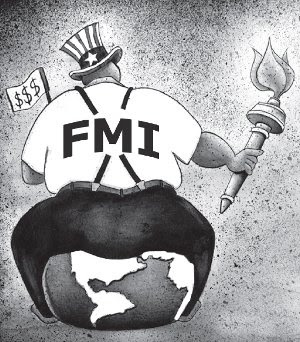 As the International Monetary Fund (IMF) prepares for its Spring meetings, new research reveals that the number of conditions it attaches to its loans are rising – and they continue to be linked to harsh austerity measures and interfere in sensitive policy areas. Conditionally Yours: An analysis of the policy conditions attached to IMF loans is the latest in a series of reports on the IMF's lending practices produced by the European Network on Debt and Development (Eurodad) over the past decade.
IMF loans come with conditions which are often highly controversial, for example influencing taxes and cutting spending; freezing or reducing public sector wages; and mandating cutbacks in welfare programmes, including pensions. There are also conditions on the restructuring and privatisation of public enterprises, and conditions that reduce minimum wage levels.
Although the IMF has said it has tried to "streamline" its conditional lending, Eurodad counted an average of 19.5 structural conditions per programme – a sharp increase since 2005-7 when Eurodad found an average of 13.7 conditions. The biggest loans had the heaviest conditions, with exceptionally high numbers in Cyprus, Greece and Jamaica – which totalled an average of 35 structural conditions per programme.