Ukraine : On the influence of fascism in EuroMaidan
AN INTERVIEW WITH MIRA, ANDREI, AND SASCHA OF ANTIFASCIST ACTION UKRAINE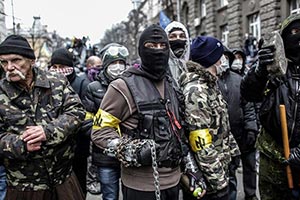 Sascha, Andrei, and Mira are members of AntiFascist Union Ukraine, a group that monitors and fights fascism in Ukraine. We sat down to talk about the influence of fascism in EuroMaidan, this is what they told me :
Sascha : There are lots of Nationalists here, including Nazis. They came from all over Ukraine, and they make up about 30% of protesters.
Mira : The two biggest groups are Svoboda and Pravy Sektor (Right Sector). The defense forces aren't 100% Pravy but a large percentage is.
S : Svoboda is more legal as a group, but they also have an illegal militant faction. Pravy Sektor is more illegal, but they want to usurp Svoboda.