Spanish State: What will Podemos do in the European Parliament
RODRIGUEZ Teresa, ARTACHO Francisco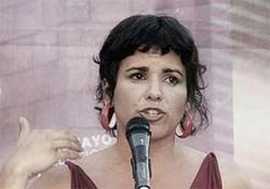 Teresa Rodriguez is a member of Izquierda Anticapitalista (IA), the section of the Fourth International in the Spanish State, who was number 2 on the radical left list Podemos which had five deputies elected at the European parliamentary elections of May 25, 2014. This interview was conducted by Francisco Artacho and is translated from the online periodical Andaluces Diario.
Francisco Artacho – How do you explain such a strong eruption of Podemos onto the Spanish political scene?
Teresa Rodriguez — This has probably to do with the need to consider alternatives which are not exactly those of the traditional parties, that are closed spaces, difficult to penetrate for citizens, subject to an identity-based framework, but at the same time in permanent conflict due to the policy of budget cuts and which have lost contact with reality inside governments of "possibility" and "continuity". It is also due to the fact that we had put forward a coherent practice since the beginning, arguing that we must not depend on bank loans but, on the contrary, forge loyalties only with the victims of financial power. In fact to say that we are the majority, to propose the "deprofessionalization" of politics, the daily control of political representatives, the right to recall. The requirement that public representatives resemble, in their daily living conditions, those who they represent. We were able to build this candidacy by gathering 50,000 signatures in less than 48 hours, by organising open primaries with a record participation, a participatory programme and creating more than 300 popular and citizens' circles. This was a very well used 4 months of existence and a very good campaign.