Total and Unconditional Debt Cancellation for Nepal!
by Asian Peoples' Movement on Debt and Development , Jubilee South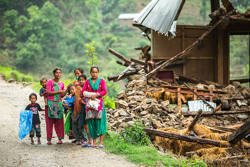 The Asian Peoples' Movement on Debt and Development (APMDD), its member organizations, its colleagues in the Jubilee South network, and its partners in the international community stand together with the people of Nepal as they struggle to survive in the aftermath of the April 25 and May 12 earthquakes and deal with unimaginable devastation, suffering and loss.
Once again, it has taken a disaster of massive proportions to highlight and remind the world of the intense vulnerabilities that people living in impoverishment and deprivation bear. Nearly 8,000 have died because of the first earthquake alone, and many more are missing, injured, starving and homeless.
One of the Least Developed Countries, Nepal ranks close to the bottom of the UN's Human Development Index, 145th out of 187 countries. The slight improvement from 2014 means that the little gains made have but all been wiped out by the quake. Nepal is one of many countries in Asia where over a billion people are known to be living barely above the extreme poverty line between US$1.25 to US$2.50 a day. Already under several layers of socio-economic deprivations, they are at great risk of regressing into deeper impoverishment than before in the face of catastrophe and crises.
In 2013 alone, Nepal had to pay US$213 million to creditors as part of servicing a US$3.8 billion foreign debt that apparently has done little to lift the Nepalese people out of poverty. Among its creditors are the World Bank and the Asian Development Bank, whose lending has only gone into projects that have displaced communities, damaged the environment, privileged private sector investments in social services and kept the Nepalese people in conditions of economic dependence on debt and aid. ADB's "concessional" lending for water projects, for instance, has been passed on several times from the central to the local government, with interest rates increasing at every turn.
The devastation in Nepal supposedly passes for access to the International Monetary Fund's Catastrophe Containment and Relief Trust. Granting that this may alleviate the Nepalese people's suffering, the depravity of having distressed peoples "qualify" for relief should be pointed out. If relief is to be substantive, the IMF should immediately and unconditionally cancel the US$10 million that will fall due for Nepal in 2015 as well as the entire amount of the principal.
If anything, the IMF continues to bring devastation across the Asian region with increasing fiscal conditionalities implemented through client states. These have ranged from the imposition of consumption taxes that unfairly burden the poor, to slashing public spending, public sector layoffs, privatization of social services and other forms of economic restructuring. The tragic consequences of more acute poverty and inequality, and the widespread violations of human rights today, are all too real for the peoples of the South.
We call for the immediate, total and unconditional cancellation of all debts claimed from Nepal – multilateral, bilateral and commercial – by all lenders including international financial institutions, governments and their development finance institutions, and private and commercial banks and investors.
We stand in solidarity with Nepal in these critical moments, committing our resolve and collective efforts as peoples' organizations and social movements to help mobilize immediate aid and pursue the struggle towards building equitable, humane and sustainable societies.
INITIAL SIGNATORIES:
Regional and International Movements and Networks
Asian Peoples' Movement on Debt and Development (of the Jubilee South network)
LDC [Least Developed Countries] Watch
Migrant Forum in Asia
South Asia Alliance for Poverty Eradication (SAAPE)
CADTM International
Bangladesh
Bangladesh Krishok Federation [Bangladesh Peasant Federation]
Coastal Association for Social Transformation Trust (COAST)–Bangladesh
Equity and Justice Working Group (EquityBD)–Bangladesh
​Sushasoner Jonny Procharavizan (SUPRO) Bangladesh
Community Development Library–Bangladesh
Jatiyo Sramik Jote–Bangladesh
Society of Development and Education for Small Households (SoDESH)–Satkhira, Bangladesh
Voices for Interactive Choice and Empowerment (VOICE)–Bangladesh
India
Environics Trust
Indian Social Action Forum (INSAF)
Nadi Ghati Morcha–India
Indonesia
Aksi! – For Gender, Social and Ecological Justice
Koalisi Rakyat untuk Hak Atas Air (KRuHA) [People's Coalition for the Right to Water]–Indonesia
debtWATCH Indonesia
Solidaritas Perempuan [Women's Solidarity]–Indonesia
Malaysia
Monitoring Sustainability of Globalization–Malaysia
Pakistan
Pakistan Kissan Rabita Committee [Pakistan Peasants' Coordination Committee]
Pakistan Fisherfolk Forum
Philippines
Aniban ng Manggagawa sa Agrikultura [Alliance of Agricultural Workers]–Philippines
Freedom from Debt Coalition–Philippines
KATARUNGAN–Philippines
Philippine Movement for Climate Justice
RightsNet–Philippines
Sanlakas Pilipinas
Koalisyong Pabahay ng Pilipinas
Nepal
All Nepal Women's Alliance
Campaign for Climate Justice–Nepal
Jagaran Nepal
Right to Food Network–Nepal
Rural Reconstruction Nepal
Sri Lanka
Centre for Environmental Justice/Friends of the Earth Sri Lanka
Source:
http://www.apmdd.org/our-programs/global-and-public-finance/statements/288-total-and-unconditional-debt-cancellation-for-nepal