Bosnia anti-government protests spread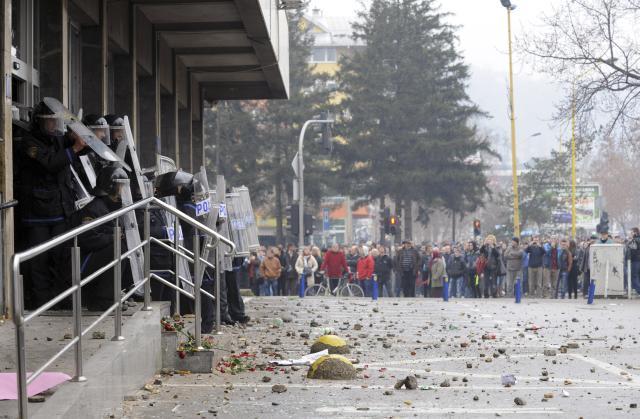 What started as a demonstration by unpaid workers in the north has expanded to more cities and other issues
Police fired rubber bullets and stun grenades to disperse thousands of anti-government protesters in cities across Bosnia on Friday, as demonstrations by unpaid workers in the northern city of Tuzla spread to other parts of the country and morphed into widespread discontent — in an election year — about unemployment and rampant corruption.
The protests, which began Tuesday, swelled to thousands of people taking their discontent over Bosnia's unemployment rate of nearly 40 percent to the streets of a dozen cities, with at least 90 people injured as they clashed with riot police. The protests marked the worst civil unrest in Bosnia since its 1992–95 war.
In Tuzla, once the industrial heart of the country, a crowd stormed the local government building on Friday, throwing furniture, files and papers out of its windows before setting it on fire.
Protesters also set government buildings ablaze in the city of Zenica and the capital, Sarajevo, including the presidency building. Those fires were promptly extinguished, but almost all of the buildings' windows were broken.
At least 10 people were injured in Zenica and 80 in Sarajevo on Friday, authorities said.
There were no immediate casualty figures from Tuzla, where the worst of the clashes took place. However, more than 130 people, including 104 police officers dispatched there, sought medical help on Thursday, mostly from the effects of tear gas.
"I think this is a genuine Bosnian Spring," Almir Arnaut, an unemployed economist and activist from Tuzla, told Reuters. "We have nothing to lose, there will be more and more of us in the streets, there are around 550,000 unemployed people in Bosnia."
As in anti-government protests that ignited the Arab Spring in late 2010, protesters — many of whom heeded calls on Facebook to take to the country's streets — chanted "Thieves!" and "Revolution!"

Privatization woes
The protests are about an ongoing workers' dispute involving four former state-owned companies that were privatized and later filed for bankruptcy.
The companies, which included furniture and washing-powder factories, employed most of the population of Tuzla. After they were privatized, contracts obliged their owners to invest in them and make them profitable. But the owners sold the assets, stopped paying workers and filed for bankruptcy between 2000 and 2008.
Thousands gathered in four cities — Zenica, Mostar, Bihac and Sarajevo — on Thursday in solidarity with the Tuzla workers, but also to protest against Bosnia's high unemployment rate and politicians whom they accuse of being disconnected from citizens' needs. Public resentment has grown over the political bickering that has stifled governance and economic development since the country's war ended in 1995.
Bosnians have many reasons to be unhappy as general elections approach in October. Besides having the highest unemployment rate in the Balkans, their country's privatization that followed the end of communism and the war produced a handful of tycoons, almost wiped out the middle class and sent the working class into poverty.
Corruption is widespread, and high taxes to fund a bloated public sector eat away at paychecks.