COVID-19:
The murderous state!
by SUD Santé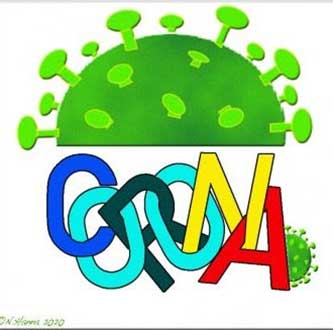 We are publishing this text from the SUD Santé Sociaux federation, because it reflects the reality encountered by staff in this sector in our different countries.
On 17 November 2019, in the city of Wuhan, China, the coronavirus 2019 (COVID 19) appeared. On January 30, 2020, the World Health Organization declared a public health emergency of international concern. Agnès Buzyn, then Minister of Solidarity and Health, declared that she had informed Edouard Philippe, Prime Minister, of the imminence of the pandemic …
In France, since this government has been in power, Emmanuel Macron has watched with extreme violence all the movements: yellow jackets, pensions, health. He criminalizes demonstrators, equips his forces of law and order with several million euros of war material and munitions to disembowel, injure, kill... And prepare, in general carelessness, with the complicity of the institutionalized political parties, the municipal elections without taking any particular precautions on the movement of goods and people. Normal for an ultra-liberal, capitalist and fascist government.
On January 24, 2020, the first cases of COVID-19 are declared in France, then everything follows. The cases of COVID-19 contaminations explode in hospitals but also in the EHPADs, the medico-social as well as the social, whose fault is it?
Healthcare workers are sent to the front line unprotected and with conflicting directives that change according to stocks! Today, more than 3,500 of our colleagues are contaminated with VIDOC-19, some of whom have been in intensive care for several weeks.
Today we are counting our dead.
We blame the government, which, in a lack of preparation worthy of a "Grolandic" government, is sending hospital staff to their deaths. We do not forget that yesterday the government repressed us when we asked for money for health care. Today they murder us!

Our only weapons are masks, absent; gloves, absent; goggles and visors, absent; overshirts, absent; hydro-alcoholic gels, absent; respirators, absent; body bags, absent.... And this list is not exhaustive.
The communication of the President of the Republic and his government is to vomit, unable to protect his carers, except to adapt his language and to impose on our colleagues, for lack of means, to work in degraded mode. There is such a lack of equipment that health standards differ from one day to the next.
Today, while ministers, hospital directors, MPs, etc., are trying to save their asses with "it's not me, it's him, it's the previous government ", we are telling them that they are accomplices in this deceitful policy that kills! We remind health establishments that they remain free to increase orders for equipment from new suppliers, including abroad, without having to wait for the distribution of state stocks. We remind them that they are free to identify the crying need for protective equipment, biomedical equipment, pharmaceuticals, instead of repeating the government's deadly deceptive rhetoric! We remind the Presidents of the Regions that they are even free to demand that as many industries as possible be forced to be able to modify their production lines to meet these vital and so urgent needs…Including locally.
This is, among other things, what SUD has been asking the government to do, in vain, for several weeks now!
« We have hatred deep within us, a fundamental hatred » (Bernard Lavilliers)
We have wolf teeth and the memory of an elephant. We're waiting for you at the deconfinement bend, we won't forget anything! Your incompetence, your lies, your morgue, your contempt...
Ah! You shouldn't have worried, you said, this little flu will pass!"
You should worry: from now on you should!
Assassinations are paid for sooner or later, the workers exposed to SARS-COV-2 by your negligence will remember you well and will do everything so that you will be brought before the justice of the people and not before your bourgeois justice!
Le même en français: COVID-19 : l'État assassine !