Choosing is defiance !
5th CADTM Europe Summer School
PROGRAM and REGISTRATION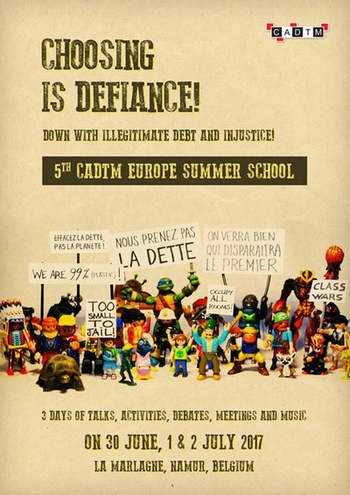 Save the dates and sign up here ! From Friday 30th of June to Sunday 2nd of July, the 5th CADTM Europe Summer School will be held in the cultural center of La Marlagne in Wépion near Namur (Belgium).
The system will never fall, if it is not toppled over. Our Summer School will be the place to be for those across Europe who share this goal. We'll meet, share, discuss on current struggles and strategies we need to set up in order to put an end to the cycles of debt, capitalism and its destructive mechanisms. Creditors' diktats in the European Union, domination through debt in the Global South, vulture funds' misbehaviour, illegitimate private debts, women's oppression, destruction of the environment… We do have reasons to fight!
Could there be a better place than Belgium to talk about all this? It is located in the heart of fortress Europe and near places where austerity policies are decided. Never mind if the sky is not so blue. It precisely gives us another reason to storm heaven.
But we shall not forget it's summer time, a perfect time to seize the day! The CADTM team is preparing activist and festive parties. Among these, you'll have access to theatre, slam and DJs performances!
The event will take place in less than three months, the program is currently being finalized and you can already sign up! As regulars could tell you, unfortunately there's a limited number of seats and every time it's full. So hurry up and get the word out! And if you want to get involved in the event preparation and the communication around it, feel free to contact us at This email address is being protected from spambots. You need JavaScript enabled to view it..
30 June ~ 2 July
PROGRAM and REGISTRATION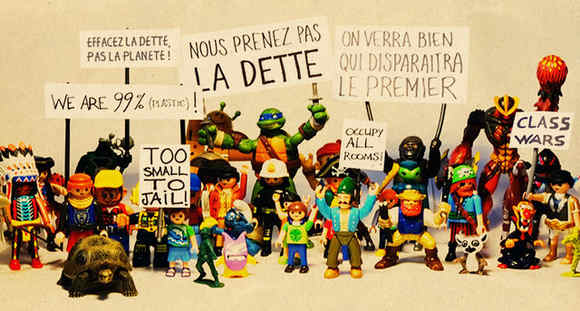 Because the system is not going to fall by itself, the CADTM Europe Summer School near Namur in Belgium from 30 June to 2 July will be a chance for activists, organisers and militants from all over Europe to get together and share their news and experience of their current struggles and discuss what strategies might stop the vicious circles of indebtedness and capitalism with their destructive effects. These discussions, organised in concurrent but freely interchangeable series, will be followed by musical evenings.
PROVISIONAL PROGRAM BY COURSE
More details (activities, speakers) will be announced as soon as they are confirmed
PLENARY SESSIONS
Opening conference: Down with illegitimate debt – it's urgent!
Closing conference: Choosing is defiance!
SERIES: DEMYSTIFYING PUBLIC DEBT!
Debt in the global South
Debt in the industrialised North
How do banks work?
The effects of austerity measures on women's' rights
SERIES: DECONSTRUCTING DEBT
Social debt
Debt and free trade
Ecology and feminism
White elephants up for grabs
SERIES: DOWN WITH THE FINANCIAL OPPRESSION OF THE PEOPLE!
Vulture funds
The doctrine of odious debt
Belfius is ours!
Neocolonialism
SERIES: DOWN WITH THE DEBT SOCIETY!
Mortgage debt
Farmers' debts
Micro-credit and the effects on women's rights
SERIES: ORGANISATION, ACTION, INVOLVEMENT – GOING FORWARD!
Organise a direct action
What challenges for the left in the Eurozone?
International effects of the upheaval in the USA
Current debt audits
Debt and financial criminality
Full programme details to be announced soon.


REGISTRATION RATES
3 days full board and lodging: 75€ / students and low incomes: 40€
3 days full board and lodging in camp-site: 60€ / students and low incomes: 30€
3 days lunch and dinner only: 55 € / students and low incomes: 25 €
Donation rate 90 € – This rate permits people on low incomes to take part.
How to pay: by bank transfer marked 'Université d'été' (Summer School) payable to CADTM
IBAN: BE06 0012 3183 4322 / Code Swift BIC: GEBA BE BB.
If you have a problem paying the registration fee, please do not hesitate to contact us to look for a solution!