French presidential election: factory worker Poutou emerges as star of TV debate
by WILLSHER Kim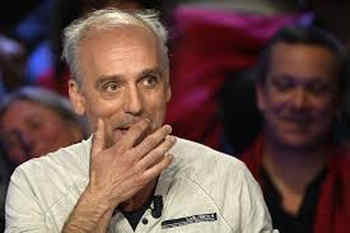 The 11 presidential candidates faced off in a live televised debate, with anti-capitalist Poutou goading rivals over their integrity. A little-known candidate emerged as the star of the televised French presidential debate after challenging two of the frontrunners over their honesty and implication in fraud scandals.

The militant Philippe Poutou, of the New Anti-capitalist party, weighed into the far-right favourite, Marine Le Pen, and conservative François Fillon, who are both under investigation for misuse of public funds.
While the 10 other candidates stuck to their political programmes during the four-hour live televised debate – which was watched by 6 million viewers – Poutou was determined to address the elephant in the room.
Having refused to pose with the others for the official photograph, saying "they're not my colleagues", Poutou (whose name means "little kiss" in French) told Le Pen that ordinary workers did not have the option of ignoring a legal summons.
Le Pen was ordered to appear before a judge over allegations she used European parliament funds to pay for staff at the Front National (FN) party she leads, including her personal bodyguard, but she refused to turn up. She has argued she did not use the money for personal enrichment and claimed she was being victimised.
Poutou then turned on Fillon, who has been formally put under investigation on charges he paid his British-born wife hundreds of thousands of taxpayers' money for jobs that did not exist. Fillon has admitted "making mistakes" but denied any legal wrongdoing.
"Since January, it's been a feast. Fillon? Nothing but affairs; the more one digs the more one smells corruption and cheating ... it's the same with Marine Le Pen, they're pinching from public funds, and the FN, which is supposed to be anti-system, isn't bothered because it's protected thanks to parliamentary immunity."
As he continued, Fillon scowled and muttered words to the effect of: "I'll fucking sue you."
The Lutte Ouvrière (Workers' Struggle) candidate, Nathalie Arthaud, also attacked Fillon. "When we hear that Mr Fillon wants to remove railway workers' privileges when he is so, let's say, liberally generous with himself, that shocks people. I don't find this normal ... you have admitted making mistakes, but people have been thrown out of jobs for less," she said.
Poutou, 50, the son of a postman, left school without qualifications after failing his baccalaureate in mechanics. He currently works at a Ford factory repairing the production line machines.
He arrived at the studio wearing a beige T-shirt – in stark contrast to the other male candidates all in suits and ties – and was combative from the start.
Asked to introduce himself, he said: "I'm a factory worker and apart from Nathalie Arthaud, I believe I'm the only one to have a normal job", adding that he was against the "indecent rich".
When the moderators pointed out he was running over the time limit, Poutou said: "Just because I'm not wearing a tie, doesn't mean you can interrupt me."
At one point he added: "Everyone is fed up with corrupt politicians, and some here know that."
Poutou stood in the 2012 presidential election, with the slogan "Let the capitalists pay for their crises", and obtained 1.15% of the votes – 411,160 – in the first round.
This time his slogan is: "Our lives not their profits."
An Ipsos survey on Wednesday suggested 65% of those asked considered honesty and probity important in a leader.
Polls after the debate suggested the hard-left candidate Jean-Luc Mélenchon had appeared the "most convincing". However, surveys suggest Le Pen and independent candidate Emmanuel Macron remain favourite to go through from the first-round vote on 23 April to the second round a fortnight later.
P.S.
* The Guardian. Wednesday 5 April 2017 13.52 BST First published on Wednesday 5 April 2017 12.59 BST:
https://www.theguardian.com/world/2017/apr/05/french-election-factory-worker-philippe-poutou-emerges-as-star-of-tv-debate?CMP=share_btn_tw