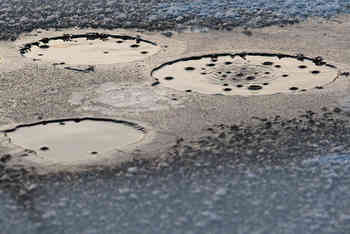 On a lake, plumes of gas, most likely methane from the breakdown of carbon in sediments below the lake, keep the water from freezing in spots, outside Fairbanks, Alaska, October 21, 2011. As the Arctic warms, the threat of abrupt methane releases is rising, too. (Photo: Josh Haner / The New York Times)
A scientific study published in the prestigious journal Palaeoworld in December issued a dire -- and possibly prophetic -- warning, though it garnered little attention in the media.
"Global warming triggered by the massive release of carbon dioxide may be catastrophic," reads the study's abstract. "But the release of methane from hydrate may be apocalyptic."