Η "Αριστερά" της Βοσνίας (Lijevi BiH): Δραματική έκκληση για κατεπείγουσα βοήθεια στους πλημμυροπαθείς της Βοσνίας, της Σερβίας και της Κροατίας
Dear friends,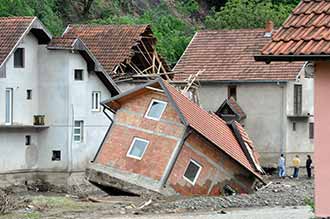 Bosnia and Herzegovina, as well as Serbia and Croatia, go through the worst floods ever in history. There are already around 30 dead only in Bosnia and Herzegovina even though official number is not known yet while people still fight to save their lives and basic property. After international media ignored the floods in its beginnings the world today becomes more aware of the effects of this catastrophe. In Bosnia and Herzegovina more than quarter of population is directly affected by floods (population of country is around 3.8 million), dozens of thousands of people have been evacuated, around 100 000 homes have been destroyed or severely damaged, economic goods have been devastated, overall damage will exceed one billion EUR (even it still cannot be precised), and thousand of landslides appear after floods and threatens to cause even more casualties and destroy even more homes. However, in this catastrophe people show enormous solidarity regardless to ethnicity and religion that has not been recorded in past twenty years.
The Governments in Europe as well as other governmental and nongovernmental organizations have the responsibility to act. Please show solidarity with the people in Bosnia-Herzegovina, Serbia and Croatia. It is necessary to provide help in a timely manner and without a bureaucratic delay. Today, people in places that are hit by floods need food, water, medical supplies, boats, disinfectants etc. But once when the water has subsided, people will have to face the tragic consequences of this natural disaster.
Dozens of thousands will lose their homes, and will not have the means to survive.
This is why we ask you to lobby your governments and organizations to financially support people in affected areas and to help people rebuild their lives. Please donate, lobby and contribute to the support to the people of Bosnia and Herzegovina, Serbia and Croatia.
Thanks in advance!
Gordan Isabegovic,
on behalf of LIJEVI BiH
Instructions for payments to Red Cross:
From Bosnia and Herzegovina:
RAIFFEISEN BANK d.d. BH broj: 1610000000850119
From abroad:
RAIFFEISEN BANK d.d. BiH SWIFT CODE: RZBABA2S IBAN CODE: BA391610000000850119 FULL BENEFICIARY NAME: CRVENI KRIZ FEDERACIJE BIH SARAJEVO FULL BENEFICIARY ADDRESS: NEDIMA FILIPOVICA 9