Choosing is defiance !
5th CADTM Europe Summer School
PROGRAM and REGISTRATION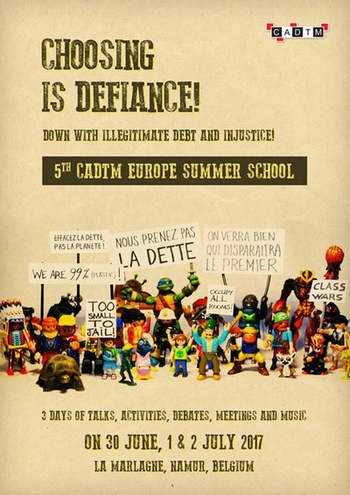 Save the dates and sign up here ! From Friday 30th of June to Sunday 2nd of July, the 5th CADTM Europe Summer School will be held in the cultural center of La Marlagne in Wépion near Namur (Belgium).
The system will never fall, if it is not toppled over. Our Summer School will be the place to be for those across Europe who share this goal. We'll meet, share, discuss on current struggles and strategies we need to set up in order to put an end to the cycles of debt, capitalism and its destructive mechanisms. Creditors' diktats in the European Union, domination through debt in the Global South, vulture funds' misbehaviour, illegitimate private debts, women's oppression, destruction of the environment… We do have reasons to fight!
Could there be a better place than Belgium to talk about all this? It is located in the heart of fortress Europe and near places where austerity policies are decided. Never mind if the sky is not so blue. It precisely gives us another reason to storm heaven.
But we shall not forget it's summer time, a perfect time to seize the day! The CADTM team is preparing activist and festive parties. Among these, you'll have access to theatre, slam and DJs performances!